We arrived at Maggie's Kitchen about a half hour before the rest of our crew so we ordered chips and salsa and sat down to look over the menu. After a few minutes Luis, Maggie's son, came over and asked if we had any questions. I inquired about the barbacoa (that's beef cheek for those that are curious), which I had heard was fantastic and he said he'd bring me a sample. Expecting a skimpy piece of meat on a toothpick, you can imagine my amazement when he came out with a big tray looking like sample heaven.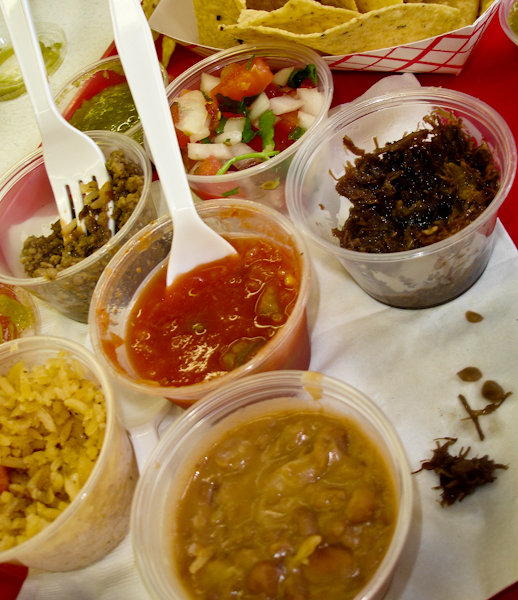 We couldn't believe the hospitality. As if that wasn't enough he came out a few minutes later with homemade corn tortillas and explained how they were so much better than typical flour tortillas, which is what we were used to. We were already sold by this point, not to mention, borderline full, and we hadn't even ordered any food yet. There are no two ways about it. Luis is the man. If Grand Rapids had hospitlity classes Luis would be schooling the entire community.
Food
Between everyone in our group we had a slew of burritos, tacos and tostadas. Not to mention a good deal of sides like guacamole, beans, rice, and pico de gallo. I have to say that my (massive!) burrito was awesome. I normally don't get ground beef burritos because they're always greasy. Not Maggie's. The beef was great. So great I wish I still lived on the west side so I could conveniently stop in for lunch. I digress. The monster burrito was full of ground beef, tomatoes, onions, cheese and some amazing red sauce, all for a swift 8 bucks. A plate full of goodness. I felt like if I finished this burrito by myself I should get a t-shirt, or at least my name on the wall.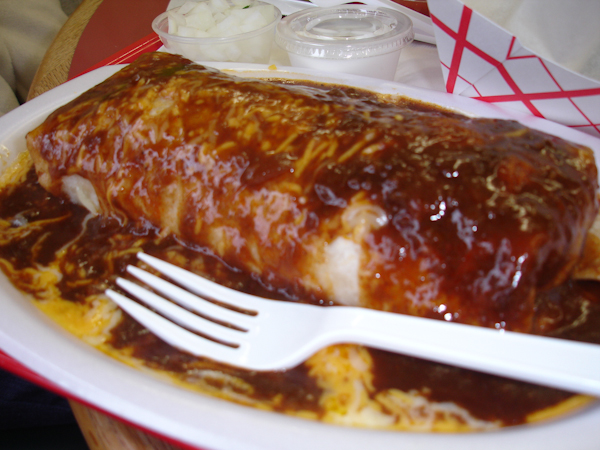 We were also really pleased with the barbacoa taco with onions and cilantro, and a lime for good measure. The barbacoa being beef cheek might scare you away, but no worries, this is the most tender meat you'll ever have. Many people had recommended the barbacoa to us before we went and there is a reason for that – it was darn good meat!
Tacos will run you about $2.50 and they're in a 6 inch shell. I'd guess 2-3 would definitely fill you up. Portions were huge, especially the burritos and tostadas.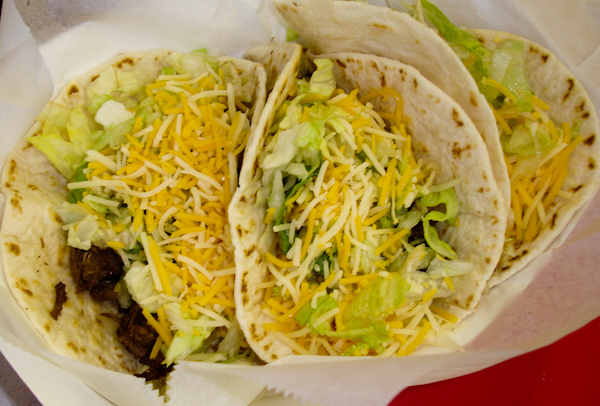 To follow tradition we had to get a dessert and our only option was this oversized sugar type cookie. It was decent.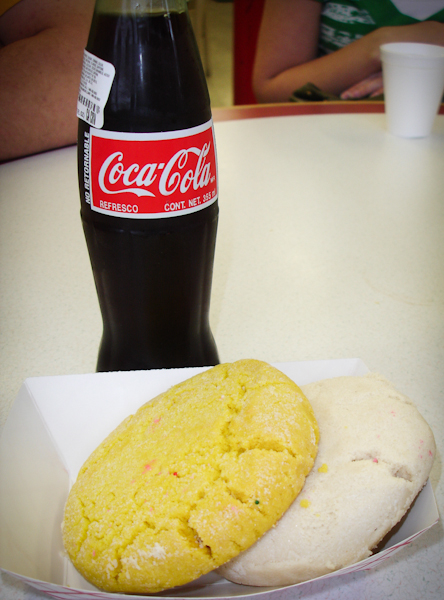 Members of our group informed me that Coke is always better at Mexican restaurants (in a glass bottle of course) because its made with cane sugar and not high fructose corn syrup. I might be behind the times as this was news to me, but I think I'll take two.
Atmosphere
The restaurant was bigger than I expected it to be. It looked like a typical authentic Mexican restaurant, think bench with a painted mural, a ceramic rooster, and a life sized Indian statue which I failed to photograph. But, what did absolutely set off the atmosphere was the fact that the entire staff was a part of Maggie's actual family. Maggie was there cooking and Luis did an amazing job greeting and informing us about the food and how it was made. Other family members took orders and prepared the food. They were all appreciative of our business, super nice people, and yes, they definitely know how to cook up some good food.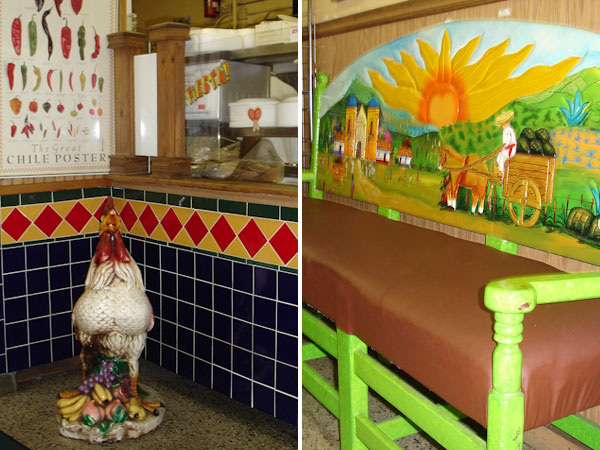 Overall
Everyone had great things to say about Maggie's Kitchen. The food was indeed authentic and once again, Luis was a very gracious host. The menu has breakfast and vegetarian items, along with your standard dinner items. It was refreshing to see Miss Maggie herself cooking the food in the open kitchen, since she has a long history of perfecting her craft, leading all the way back to learning in her mother's kitchen in New Laredo, Mexico before making her own roots in Grand Rapids 34 years ago.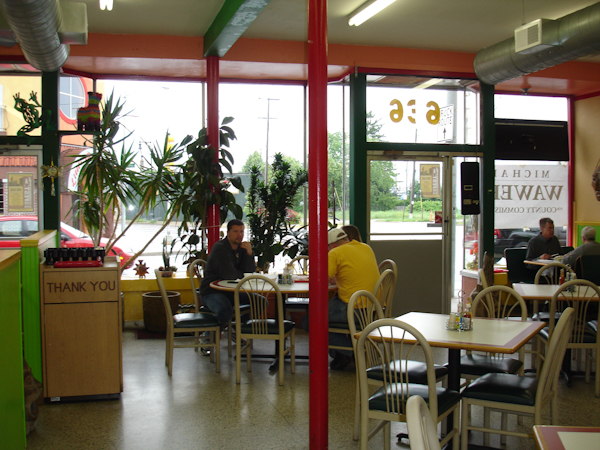 Parting Thoughts
Next time you're standing in line at the mass produced Mexican food chain, crossing your fingers that they'll get your order right, think about how you could be at Maggie's Kitchen, with her whole family, including Luis..did we mention how much we love this guy?? Maggie's Kitchen equals good service, good smiles, and people who care.